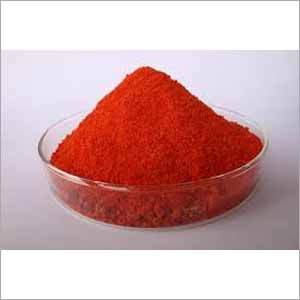 Atonik Plant Stimulant
Product Code : 41
Product Description
Having more than 20 years of experience, our trusted organization is engaged in providing excellent quality Atonik Plant Stimulant. The offered product is formulated with the use of optimum quality basic ingredients under suitable conditions. Having reddish brown crystal appearance, this product is used as plant growth promoter and is mixed with fungicides and insecticides. In addition to this, our clients can purchase the provided Atonik Plant Stimulant at marginal prices from us.

Features:
Works as a effective growth promoter
Stable under normal conditions
Promote cytoplasm circulation in plants

Comes in hygienic packet with appropriate composition
Atonik Plant Stimulant
CHEMICAL COMPOSITIONS:

5 NITROGUAIACOL SODIUM: 17%

O-NITROPHENOLATE SODIUM: 33%

P-NITROPHENOLATE SODIUM: 50%

Appearance: Crystal Compound, Reddish-Brown

Melting Point: 105-106oC

Solubility: Easily Soluble in Water & Solvants.

Stability: Stable under normal conditions

Applications:

Atonik Plant Stimulant is widely used as plant growth promoter across the world. It is strong cell agent, infiltrate rapidly into the plant body, offer the activity greatly to cell, to promote cytoplasm circulation, accelerate growth speed, break dormancy, make roots & sprouts stronger, raise the absorption of nutrients so can make them bloom and fruit in advance, enhance immunity of plants, regulate hormones in plant body of auxine, cytokinin, ethylene, G A in the plants can balance the reproductive and nutrition growth. It has a high capacity against adverse environmental circumstances such as drought, flood and coldness also relieve the toxicity. It increases the quality and quantity with most favorable results it widely used in food crops, cash crops, vegetables, fruits, oil crops & flowers.

Uses:
Single use

It can be used in seed dipper, irrigation, Bud sprinkler and leaf spraying with 1.2- 1.5gm per acre (Foliar spray concentration 6-10ppm) It is one of the highly efficient PGR as far as nutrition and diseases prevention is concern. It can be made in form of water and powder (1.8% Sodium Nitrophenolate - Water 1.4 % Sodium Nitrophenolate SP)

Compounded use

Mixed with the fertilizers it can increase the utilization ratio of fertilizers. It is fertilizers synergistic. With fertilizer it eliminates antagonism, regulate plant nutrients uptake, to double fertilizers'efficiency. (Foliar using 6ppm concentration)

Mixed with germicides: Increases the preventable effects of germicides.

Mixed with Insecticides, Fungicides, and Bactericides:

It broadens the spectrum of drug, increases efficacy; prevent harm of pesticide in the use process. After Atonik regulation suffered plant quickly recover growth spray concentration - 6ppm
Specification
| | |
| --- | --- |
| Application | Plant Growth Regulator |
| Form | Powder |
| Purity | 98% |
| Formulation | 98% Powder |
| Color | Red |